Municipal Solid Waste Charging
Implementation of Municipal Solid Waste (MSW) Charging by the Government is imminent and will take effect on 1 April 2024. The preparation period has already begun. Property management companies (PMCs) and practitioners should play the role of a coordinator, determining the applicable mode of charging for the managed property soonest possible, and assisting stakeholders such as owners' organisation, households and cleansing contractors to understand and comply with relevant legislation in preparation for MSW Charging.
In line with the "polluter-pays" principle, the waste disposed of by all sectors in Hong Kong will be subject to charging based on its quantity to drive behavioural changes in waste generation within the community that leads to waste reduction at source and clean recycling practice, hence reducing the overall waste disposal amount.

MSW charging covers the following waste:
Domestic waste (e.g. household waste and waste generated from daily activities in institutional premises.); and
Commercial and Industrial waste (e.g. waste generated from shops, restaurants, shopping malls, hotels, offices, markets and all industrial activities). 

Construction waste, chemical waste and clincial waste are not subject to MSW charging regime but are subject to their existing charging regimes.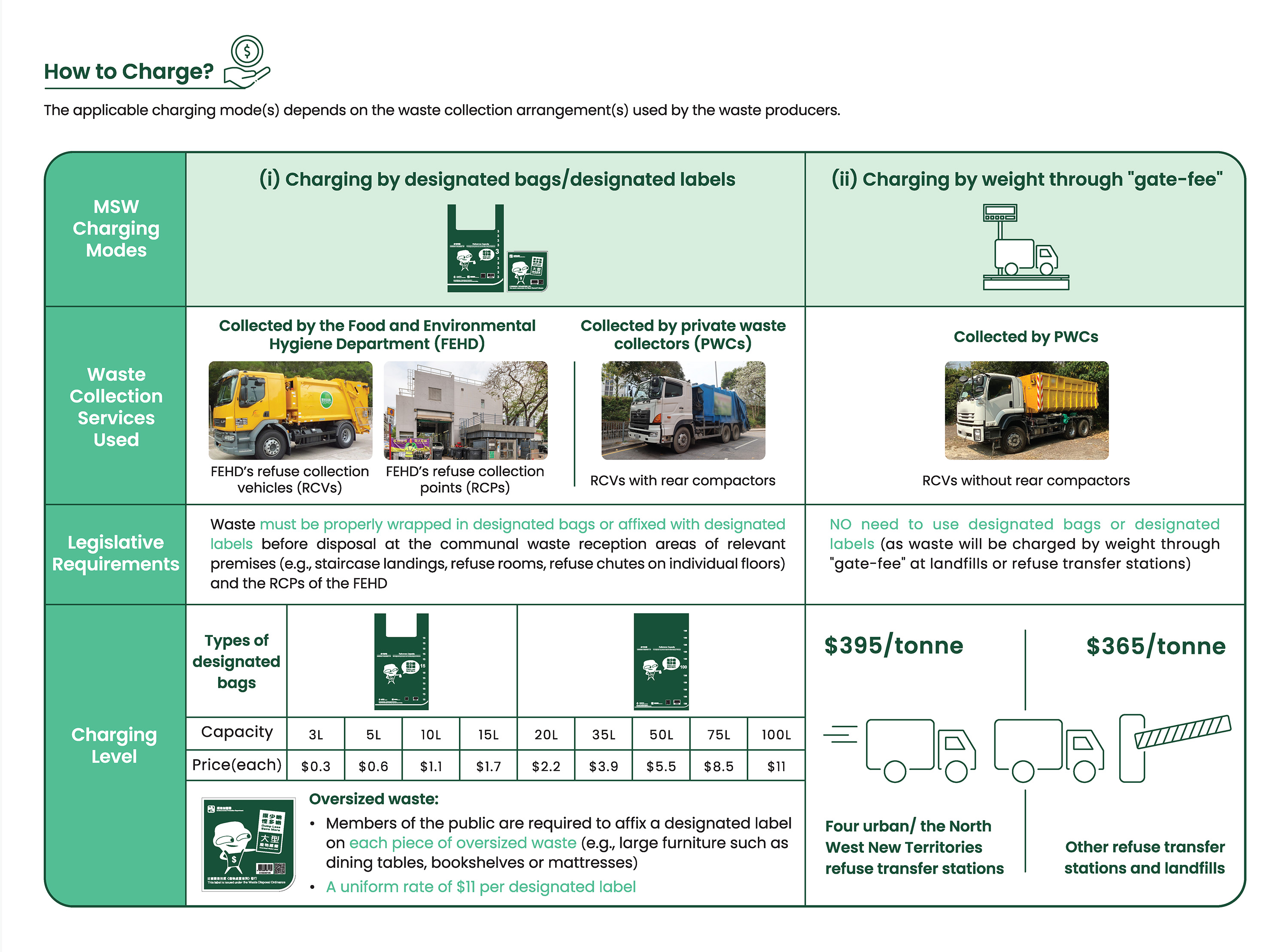 Enhance waste reduction and recycling

Help reduce carbon emissions

Create green job opportunities
How the property management industry can get ready
In general, MSW Charging work which property management companies and practitioners need to assist in executing can be divided into the following three categories:
1. Discussing implementation details with stakeholders (including owners' organisation, cleansing contractor, etc.) and reaching a consensus
2. Assisting frontline staff and households in getting ready
Assisting frontline staff in getting ready   

Formulating codes and guidelines    

Staff training    

Assisting households in getting ready

Publicity and education (explaining to households on MSW Charging mode, waste collection / handling procedures and arrangements, and relevant expenditure (handling oversized/non-compliant waste, designated bags in common areas)

Dissemination of information (erect thematic boards for MSW charging, disseminate information on MSW charging and waste reduction through different channels, provide locations of recycling facilities within or near the premises)

Set up feedback channels
3. Implementation of MSW Charging  (from 1 April 2024 onwards)    
Regular review
Perform inspection
Report on non-compliant cases
Continuous publicity and education
The Environmental Protection Department has compiled the following best practice guides on implementing MSW charging for reference by property management industry in different types of property.
Related blog article (Chinese only)
物管業兩性比例愈趨平衡 女性物管從業員發展空間廣闊?
物業管理業監管局助業界於物管業發牌制度過渡期完結前順利領牌
物業管理業監管局助業界於物管業發牌制度過渡期完結前順利領牌